Christmas in Australia is so vastly different to those who enjoy basking in their winter wonderlands… Indeed, for those from the North who experience an Aussie Christmas the difference whilst stark offers an experience that's truly unique and full of all its own wonders.
And while the summer, beaches, Carols by candlelight, cold beer, cricket and seafood are amazing, it's Aussie summer fruit that puts the icing on the Aussie Christmas cake – whoops I mean pavlova 🙂
Mangoes
Darwin has its mango madness, Brisbane has its mango daiquiris and Christmas in Australia is just not the same without a tray of these beauties sitting on a table or cooling in the fridge. Where we used to only have one sort of mango – the delectable Kensington Pride or Bowen mango – there are now a plethora of varieties perfect for serving to guests or just savouring yourself. Choose firm, plump fruit with no wrinkles and ideally oozing just a little sweet nectar: this is the time to lift them to your nose and smell your way to perfection. The red-blushed Calypso variety is a stringless favourite and newer R2E2 – a giant, sought-after specimen perfect for keeping in fruit bowls due to its slow ripening nature. Around Christmas Eve they start coming down in price but be careful, too ripe and mangoes take on a whiff of kerosene as their enzymes break down and the flesh goes brown. And what to do with them? Smoosh them into cocktails, dice them for salsa to serve with prawns, crabs or even roast pork. Shave green mangoes for Thai-style salads. And whatever you do, don't chuck out the seeds – there's plenty of delicious flesh around them to warrant an over-the-sink eating session.
Cherries
They have the shortest season of all our stone fruits, so it's fair to say it's not an Australian Christmas without a bowl of cold cherries somewhere on hand. Sweet, plump and juicy, they make an ideal gift or party plate and liven up just about any drink or dessert. Stacked up in fruit shops, roadside stalls and even servos, get yours early to get the best quality and keep them in the fridge so they stay pristine. We're not so big on cherry varieties in Australia but Bing, Merchant and Stella are perhaps the most popular on offer with new varieties like Sir Tom, Sir Douglas and Dame Roma making inroads. Then there's the rare and delectable white cherry, big on juice and crunch and always worth snapping up if you see it. Just be sure to offer them in a bowl, with or without ice, and a smaller something to pop the pips into. Then turn on the cricket.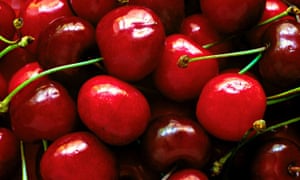 Pavlova Gives you complete Fruit Freedom!
Along with Mangoes and Cherries, we have a wonderful array of Stone fruit and berries in season. There is no excuse for an Aussie Christmas Pav not to be loaded with a quintessential fruit salad of all the wonders of Australian summer fruit.
And if this doesn't make a northerner pine to try an Aussie Christmas at least once in their lifetime, there is something wrong with them!!!
Don't forget to pick up all your Aussie summer fruit and Your Local Greengrocer! Cheers…
References:
Juan Carlo Thomas- Guardian 2014